BEWARE THE MANY FACES OF EVIL!
Gifts of the Holy Spirit unlock a timeless realm. . .
Battle with an arsenal mightier than any forged by mortal man. . .
Steel yourself to overcome your darkest fear, but . . .
Only if your aim is true.
And your heart is pure
Catechumen is a first person action/adventure Christian game where your goal is to defeat the forces of evil, descending deeper into the depths of the Earth and rescue your captured brethren.
Choose from eight powerful spiritual weapons. Each weapon has its own unique use. Maximize your firepower by learning each weapon's abilities. Find the lightning sword, the drill sword, the explosive staff and more. Encounter Satan's minions and banish them back to their evil realm. Evil lurks everywhere you turn. With your Sword of the Spirit in hand, you must confront the demons head on and show them nothing can overcome the power of the Holy Spirit.
Restore your spiritual health by finding scrolls containing God's Word. In Catechumen, you survive by faith. When your faith gets too low, pick up the many scrolls scattered across the lands to renew your faith and continue your journey.
Descend deeper and deeper into the depths of the underworld. Your journey will take you into the very heart of evil, through 18 hand-crafted, highly detailed levels. Each level you visit is unique and each has its secrets you must uncover.
Rescue your captured Christian brethren. Your mentor and some of his flock have been taken hostage by the evil Roman Empire, controlled by Satan himself. The forces of evil and darkness will claim a great victory if he does not survive! Take up this quest and fight for the Lord!
Minimum System Requirements:
Windows 95/98/2000/ME/XP
SVGA high color (16 bit)
64 MB Ram (Memory)
3D accelerator card
DirectX 7.0 (included)
Windows compatible soundcard
Pentium 233 or higher processor
2x CD-ROM drive
Mouse, keyboard
Recommended System Hardware:
16 MB or higher video memory
Pentium 300 or higher processor
SoundBlaster Compatible Soundcard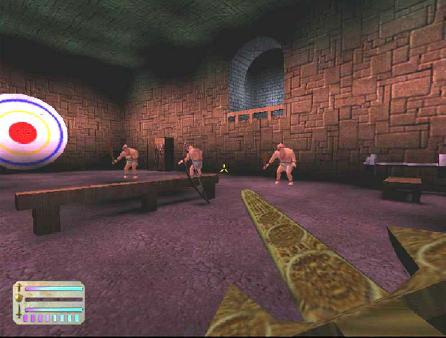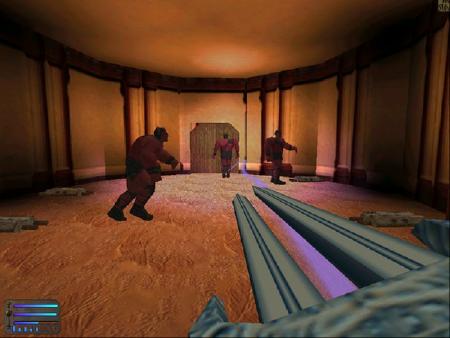 Ominous Horizons and Catechumen are trademarks of N'Lightning Software Development


Buyer pays 3.25 shipping. Bidding on my other auctions? Add only 1.00 shipping for each additional vhs, game, CD or DVD. For an additional .55, I will include a USPS tracking number (recommended). I prefer PayPal but will also accept money orders or cashier's checks. NO CHECKS please.
All winning bidders with less than 10 feedback will need to pay via Paypal within 5 days of auction close.
CHECK MY OTHER AUCTIONS. I DO COMBINE SHIPPING CHARGES!